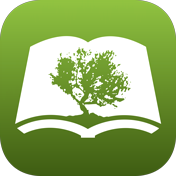 Olive Tree Bible App
---
1 John 4:1-6

New American Standard Bible (NASB)
Testing the Spirits
4 (A)Beloved, do not believe every (B)spirit, but test the spirits to see whether they are from God, because (C)many false prophets have gone out into the world. 2 By this you know the Spirit of God: (D)every spirit that (E)confesses that (F)Jesus Christ has come in the flesh is from God; 3 and every spirit that (G)does not confess Jesus is not from God; this is the spirit of the (H)antichrist, which you have heard is coming, and (I)now it is already in the world. 4 You are from God, (J)little children, and (K)have overcome them; because (L)greater is He who is in you than (M)he who is in the world. 5 (N)They are from the world, therefore they speak as from the world, and the world listens to them. 6 (O)We are from God. (P)The one who knows God listens to us; (Q)the one who is not from God does not listen to us. By this we know (R)the spirit of truth and (S)the spirit of error.
---
New American Standard Bible (NASB)
New American Standard Bible®, Copyright © 1960, 1971, 1977, 1995, 2020 by The Lockman Foundation. All rights reserved.