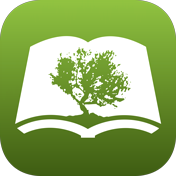 Olive Tree Bible App
---
Habakkuk 3:13-15

English Standard Version (ESV)
13 (A)You went out for the salvation of your people,
for the salvation of (B)your anointed.
(C)You crushed the head of the house of the wicked,
laying him bare from thigh to neck.[a] Selah
14 You pierced with his own arrows the heads of his warriors,
who came like a whirlwind to scatter me,
rejoicing as if to devour the poor in secret.
15 (D)You trampled the sea with your horses,
the surging of mighty waters.
---