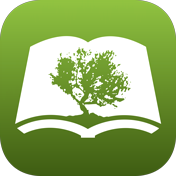 Olive Tree Bible App
---
John 5:39-46

New American Standard Bible (NASB)
Testimony of the Scripture
39 [a](A)You examine the Scriptures because you think that in them you have eternal life; and it is (B)those very Scriptures that testify about Me; 40 and yet you are unwilling to come to Me so that you may have life. 41 (C)I do not receive glory from people; 42 but I know you, that you do not have the love of God in yourselves. 43 I have come in My Father's name, and you do not [b]receive Me; (D)if another comes in his own name, you will [c]receive him. 44 How can you believe, when you [d](E)accept [e]glory from one another and you do not seek (F)the [f]glory that is from (G)the one and only God? 45 Do not think that I will accuse you before the Father; the one who accuses you is (H)Moses, in whom you have put your hope. 46 For if you believed Moses, you would believe Me; for (I)he wrote about Me.
---
New American Standard Bible (NASB)
New American Standard Bible®, Copyright © 1960, 1971, 1977, 1995, 2020 by The Lockman Foundation. All rights reserved.