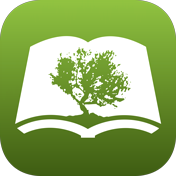 Olive Tree Bible App
---
John 1:1

Expanded Bible (EXB)
Christ Comes to the World
1 In the beginning [Gen. 1:1] ·there was the Word [the Word already existed; C the Word refers to Christ, God's revelation of himself]. The Word was ·with [in the presence of; in intimate relationship with] God [C the Father], and the Word was [fully] God.
---
Expanded Bible (EXB)
The Expanded Bible, Copyright © 2011 Thomas Nelson Inc. All rights reserved.