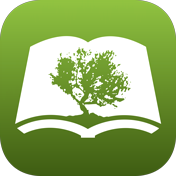 Olive Tree Bible App
---
Mark 12:35-37

English Standard Version (ESV)
Whose Son Is the Christ?
35 (A)And as (B)Jesus taught in the temple, he said, "How can the scribes say that (C)the Christ is the son of David? 36 David himself, (D)in the Holy Spirit, declared,
37 David himself calls him Lord. So (G)how is he his son?" And the great throng (H)heard him gladly.
---