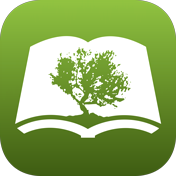 Olive Tree Bible App
---
Mark 2:13-17

New King James Version (NKJV)
Matthew the Tax Collector(A)
13 (B)Then He went out again by the sea; and all the multitude came to Him, and He taught them. 14 (C)As He passed by, He saw Levi the son of Alphaeus sitting at the tax office. And He said to him, (D)"Follow Me." So he arose and (E)followed Him.
15 (F)Now it happened, as He was dining in Levi's house, that many tax collectors and sinners also sat together with Jesus and His disciples; for there were many, and they followed Him. 16 And when the scribes [a]and Pharisees saw Him eating with the tax collectors and sinners, they said to His disciples, "How is it that He eats and drinks with tax collectors and sinners?"
17 When Jesus heard it, He said to them, (G)"Those who are well have no need of a physician, but those who are sick. I did not come to call the righteous, but sinners, [b]to repentance."
---
New King James Version (NKJV)
Scripture taken from the New King James Version®. Copyright © 1982 by Thomas Nelson. Used by permission. All rights reserved.