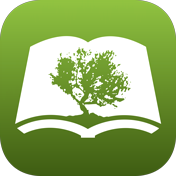 Olive Tree Bible App
---
Romans 3:24-26

New International Version (NIV)
24 and all are justified(A) freely by his grace(B) through the redemption(C) that came by Christ Jesus. 25 God presented Christ as a sacrifice of atonement,[a](D) through the shedding of his blood(E)—to be received by faith. He did this to demonstrate his righteousness, because in his forbearance he had left the sins committed beforehand unpunished(F)— 26 he did it to demonstrate his righteousness at the present time, so as to be just and the one who justifies those who have faith in Jesus.
---
New International Version (NIV)
Holy Bible, New International Version®, NIV® Copyright ©1973, 1978, 1984, 2011 by Biblica, Inc.® Used by permission. All rights reserved worldwide.