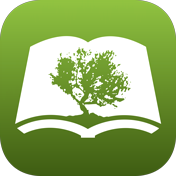 Olive Tree Bible App
---
Romans 3:22-24

New International Version (NIV)
22 This righteousness(A) is given through faith(B) in[a] Jesus Christ(C) to all who believe.(D) There is no difference between Jew and Gentile,(E) 23 for all have sinned(F) and fall short of the glory of God, 24 and all are justified(G) freely by his grace(H) through the redemption(I) that came by Christ Jesus.
---
New International Version (NIV)
Holy Bible, New International Version®, NIV® Copyright ©1973, 1978, 1984, 2011 by Biblica, Inc.® Used by permission. All rights reserved worldwide.