Elberfelder 1905 and 1985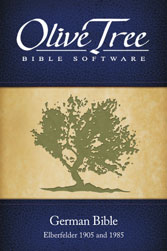 Tell Someone
Available for: iPad, iPhone, Android, Mac, and Windows.
Elberfelder 1905 and 1985
Publisher: Brockhaus Verlag
Publisher: Brockhaus Verlag
The Elberfelder translation distinguishes itself by its exactness and literalness. It was first published in Germany in 1871. It has roots in the tradition of the Brethren Movement. A thorough revision began in the 1960s and was completed by 1985. The revised version is generally referred to as the philologically most exact German translation.
This bundle includes the 1905 edition, the 1985 revision, and the notes for the 1985 revision. The notes contain over 63,000 cross-references making them an incredibly useful resource for finding related passages.
Die Elberfelder Übersetzung der Bibel zeichnet sich durch ihre Worttreue und Genauigkeit aus. Sie wurde 1871 erstmals in Deutschland veröffentlicht und entstammt der Tradition der Brüderbewegung. Seit den 60er Jahren wurde die Elberfelder Übersetzung revidiert. Diese Revisionsarbeit fand 1985 ihren Abschluss. Sie gilt als die philologisch exakteste deutsche Bibelübersetzung.
This download includes the 1905 and 1985 versions of the Elberfelder translation.
Create an Olive Tree Account
Sign Into Your Olive Tree Account