Selected Sermons of George Whitefield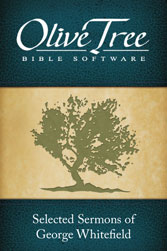 Tell Someone
Available for: iPad, iPhone, Android, Mac, and Windows.
Selected Sermons of George Whitefield
Publisher: CCEL
Publisher: CCEL
A selection of 59 different sermons given by George Whitefield, including among others: The Seed of the Woman and the Seed of the Serpent, Walking with God, Abraham's Offering Up of His Son Issac, The Great Duty of Family Religion, Thankfulness of Mercies Received, The Potter and the Clay, The Lord Our Righteousness.
George Whitefield (December 16, 1714 - September 30, 1770), was a minister in the Church of England and one of the leaders of the Methodist movement. He was famous for his preaching in America which was a significant part of the Great Awakening movement of Christian revivals. Like his contemporary and acquaintance, Jonathan Edwards, Whitefield preached with a Calvinist theology. He was known for his powerful voice and his ability to appeal to the emotions of a crowd, and unlike most preachers of his time spoke extemporaneously, rather than reading his sermon from notes. It is difficult to say wherein the effect of his preaching lay; certainly not in his language or logic, for his printed sermons contain nothing remarkable; it must have been by earnestness and charm of voice that he could attract to him the rich as well as the poor.
Create an Olive Tree Account
Sign Into Your Olive Tree Account