Two Covenants, The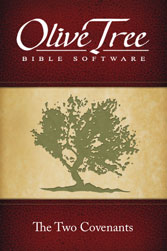 Tell Someone
Available for: iPad, iPhone, Android, Mac, and Windows.
Two Covenants, The
Publisher: CCEL
Publisher: CCEL
This classic writing, now an eBook for your PDA or mobile phone, aims to bring readers into the full assurance that they are living in a covenant relationship with a God who has faithfully vowed to fulfill every promise He has given. Andrew Murray wrote The Two Covenants out of the conviction that a thorough appreciation of what God has covenanted to do for those who trust Him will bring them strength and joy and a solid foundation for their faith. Here is a thorough treatment of this subject in the devotional and heart-drawing style for which the author is well known. Reading this electronic version on your handheld computing device gives you the opportunity to access verse references instantly, letting the Bible itself impart faith in our Lord's ability and intention to do for us beyond what we ask or think.
Andrew Murray (1828-1917). One of four children born to Andrew, Sr. and Maria Murray, Andrew Murray was raised in what was considered then the most remote corner of the world - Graaff-Reinet (near the Cape), South Africa. It was here, South Africa, after his formal education in Scotland and three years of theological study in college in Holland, that Andrew Murray returned as a missionary and minister. He was the prolific author of over 240 books, and faithfully preached and ministered Christ in South Africa.
"I have learnt to place myself before God every day, as a vessel to be filled with His Holy Spirit. He has filled me with the blessed assurance that He, as the everlasting God, has guaranteed His work in me. If there is one lesson that I am learning day by day, it is this; that it is God who worketh all in all. Oh, that I could help any brother or sister to realize this!"
Create an Olive Tree Account
Sign Into Your Olive Tree Account