Beyond the Shadowlands: C. S. Lewis on Heaven and Hell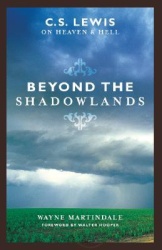 Tell Someone
Available for: iPad, iPhone, Android, Mac, and Windows.
Beyond the Shadowlands: C. S. Lewis on Heaven and Hell
Publisher: Crossway
Publisher: Crossway
C. S. Lewis's fiction is rich with reflections on the afterlife. For many, reading his books helps in forming a more vivid understanding of Heaven and Hell. In this book, Lewis scholar Wayne Martindale uses some of Lewis's best-loved fiction as an imaginative complement to his discussion on eternity.
Those who know Lewis's work will enjoy Martindale's thorough examination of the powerful images of Heaven and Hell found in Lewis's fiction, and all readers can appreciate Martindale's scholarly yet accessible tone. Read this book, and you will see afresh the wonder of what lies beyond the Shadowlands.
ISBN: 9781500000462
Create an Olive Tree Account
Sign Into Your Olive Tree Account