Greek New Testament (NA27) with Critical Apparatus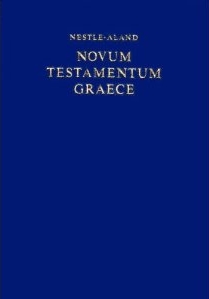 Tell Someone
Available for: iPad, iPhone, Android, Mac, and Windows.
Greek New Testament (NA27) with Critical Apparatus
Publisher: German Bible Society
Publisher: German Bible Society
The Novum Testamentum Graece, also known as the NA-27 is the standard modern scholarly edition of the Greek New Testament. It is the product of over 100 years of work by the Institute for New Testament Textual Research under numerous editors including Eberhard and Erwin Nestle, Kurt and Barbara Aland, and Bruce Metzger. The same Greek text is also used by the United Bible Society's Greek New Testament, Fourth Edition, but there are some slight differences in punctuation between the two.
The main difference between the NA-27 and the UBS4 is the critical apparatus. The critical apparatus included with the NA-27 is more exhaustive and includes variants in orthography that may be of interest to scholars rather than only the variants which affect the interpretation of a passage.
Already have NA 27 Resources? Upgrade pricing is also available for the NA 28.
Create an Olive Tree Account
Sign Into Your Olive Tree Account