Hawai'i Pidgin - HWP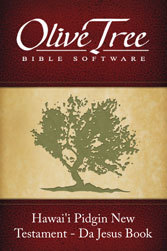 Tell Someone
Available for: iPad, iPhone, Android, Mac, and Windows.
Hawai'i Pidgin - HWP
Publisher: Wycliffe
Publisher: Wycliffe
This translation was written by 26 native speakers of Hawaii Pidgin in the islands. They worked from the original Greek, with the help of the Wycliffe Bible Translators, and also referred to English translations and commentaries. It is intended for those speakers of the Hawaii Pidgin language (sometimes called Hawaii Creole English) who find the English Bible difficult to understand. That is why this translation uses a heavier rural Pidgin than is normal for urban speakers. It should also be noted that the Pidgin language differs slightly in different parts of the Island chain, just as Standard English differs in different parts of the US mainland. The Pidgin used in this translation leans toward a common form that is understood in most of the areas where many people speak the language.
Excerpt:
3 Da guy dat watch da gate, he open um fo da sheep farma. Da sheeps hear da sheep farma's voice wen he call dem by dea name, an den he take dem outside. 4 Afta he take um outside, he go in front dem, an da sheeps go wit him, cuz dey know his voice. —John 10:3-4
Create an Olive Tree Account
Sign Into Your Olive Tree Account