Foxe's Book of Martyrs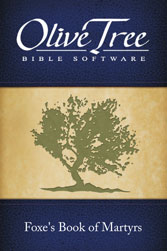 Tell Someone
Available for: iPad, iPhone, Android, Mac, and Windows.
Foxe's Book of Martyrs
Publisher: CCEL
Publisher: CCEL
Perhaps one of the most influential Protestant books ever written, Foxe's Book of Martyrs still holds a respected and revered place in Protestant history. Formally titled Actes and Monuments of these Latter and Perillous Days, touching Matters of the Church, this gripping and powerful description of the martyrs of the Early Church, Middle Ages and Reformation is a seminal work. Updated through the years after Foxe's death, this popular edition by William Byron Forbrush includes some martyrs in the centuries after the Reformation. Available for purchase, this resource is both a powerful narrative and moving testament to the perseverance and unwavering faith of Christians from the twelve Apostles to the Reformation.
John Foxe (or Fox) (1517-1587) was a scholar and man of deep religious faith who lived during the turbulent years in England under Queen Mary. He compiled Foxe's Book of Martyrs from original documents, and was an outspoken opponent of the Catholic Church, particularly its presence in England. Coming from a family of some means, Foxe endured exile and poverty for years, but returned to England to publish his famous book.
Create an Olive Tree Account
Sign Into Your Olive Tree Account