NIV True Image Study Bible with NIV: the Bible for Teen Girls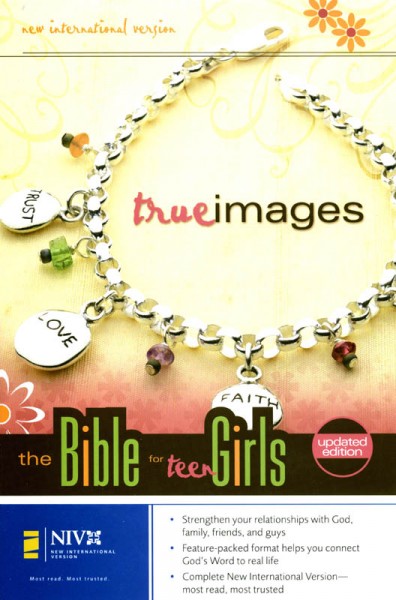 Tell Someone
Available for: iPad, iPhone, Android, Mac, and Windows.
NIV True Image Study Bible with NIV: the Bible for Teen Girls
Publisher: Zondervan
Publisher: Zondervan
If you want to be a True Images girl, take your stand • embrace God's new covenant • be true
Every day, teenage girls are presented with hundreds of images and sound bytes about how they should look, act, think, and talk. With the relentless reach of music, magazines, movies, and media, how can the Bible--a book full of history, poetry, and theology--compete for girls' attention?
The True Images Bible presents the lessons of the timeless New International Version through features that are easy-to-read and interesting to modern teenage girls. Presenting the Bible in a language and format that can relate to the teenage girl, the True Images Bible has:
100 Love Notes from God, bringing the personal messages of God's love for you out of the text
52 Mirror Images Profiles, highlighting the positive and negative roles of the Bible's girls and identifying the traits of a Godly personality
500 Truth or Dare Notes, presenting "jump-in" points through which the reader can instantly dive into the text with a keen understanding of what is already going on
120 In Focus Articles, relating the Bible to a teenage girl's real life issues
300 Genuine Notes, identifying what "true beauty" looks like in the Bible
7 Reading Plans, breaking-down the Bible into manageable parts according to relevant themes
12 True Image Quizzes, finding out about YOUR spiritual gifts, learning what GUYS think about these topics, and discovering YOUR true image
And much, much more!
Create an Olive Tree Account
Sign Into Your Olive Tree Account