NIV Spiritual Renewal Study Bible Notes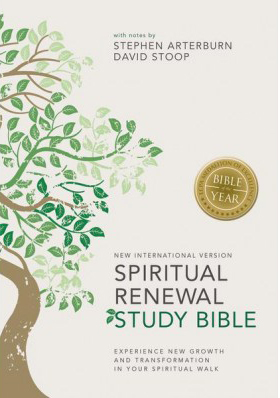 Tell Someone
Enhanced for Bible Study using the Resource Guide
Available for: iPad, iPhone, Android, Kindle Fire, Mac, and Windows Desktop, running app version 6.0 and above.
NIV Spiritual Renewal Study Bible Notes
Publisher: Zondervan
NOW AVAILABLE for iOS, Android, Mac, & Windows apps running version 6.0 and above
Publisher: Zondervan
Experience New Growth and Transformation in Your Spiritual Walk
Are you experiencing a hunger to know God more completely in your life? Do you long for a deeper connection with him? If so, then the NIV Spiritual Renewal Bible is for you. Using a time-tested process honed over decades of counseling and teaching, Stephen Arterburn employs 7 core principles of spiritual renewal and refreshment, connecting you more closely with God's Spirit through his Word and helping you to develop the deep, satisfying change you desire in your spiritual life.

Features:
66 book introductions focused on the thematic study and spiritual renewal aspects of each Bible book
Text notes highlight renewal themes as they emerge from the text of the Bible
Multi-feature character profiles assess how different personalities managed different challenges in their walk with God
Spiritual keys devotional reading plan: Two cycles (OT and NT) of 49 devotions each lead the reader through 7 keys of spiritual renewal with 7 devotions for each key
Spiritual disciplines essays that describe the various disciplines of the faith such as prayer, Scripture reading, and others
Spiritual disciplines profiles: one-page articles that describe how certain characters of the Bible employed the various Spiritual disciplines in their lives
PLEASE NOTE: This study Bible does not contain the Bible text; this special Notes Only edition is a supplement to the Bible you already use in Olive Tree's Bible+ Apps. Open it in split-screen and follow along with your Bible.