Neue Genfer Übersetzung (NGÜ) Neues Testament und Psalmen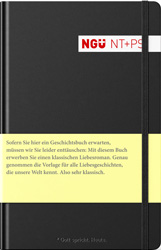 Tell Someone
Available for: iPad, iPhone, Android, Mac, and Windows.
Neue Genfer Übersetzung (NGÜ) Neues Testament und Psalmen
Publisher: Geneva Bible Society
Publisher: Geneva Bible Society
The Neue Genfer Übersetzung is a modern translation of the Bible into German. It is based heavily on the theories of Eugene Nida regarding Bible translation. The NGÜ uses the principal of dynamic equivalence, attempting to render the thought or meaning of each passage into modern German. The text includes nearly 8,000 translator's footnotes, which provide alternative translations or meanings to clarify any unusual words or phrases. This electronic edition also contains over 1,000 hyper-linked cross-references, allowing readers to navigate to related passages by simply tapping the link.
Please Note: This translation includes only the New Testament and the Book of Psalms.
Create an Olive Tree Account
Sign Into Your Olive Tree Account