The Salt Cellars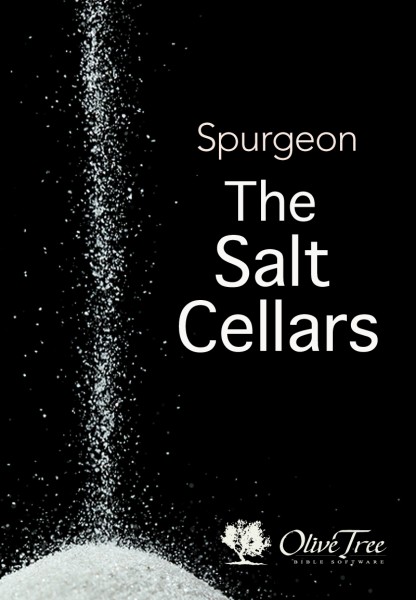 Tell Someone
Available for: iPad, iPhone, Android, Mac, and Windows.
The Salt Cellars
Publisher: Olive Tree
Publisher: Olive Tree
"The 'Salt-Cellars' might be safely commended, even to that vague and not very earnest personage, the general reader. Let him open the books where he may, he will find something to make him stop and read." — Daily News
"This is a book to be kept close at hand for a spare five minutes; there is not a sentence in it which does not fulfill the requirement of the motto on the title-page, by having 'shortness, sense, and salt.' The arrangement of the matter is masterly; while the get-up of the volume reflects great credit on the publishers." — Christian Leader
"The proverbs are excellent, but Mr. Spurgeon's comments are perfect. They are sententious, show a profound knowledge of human nature, are often humorous, always on the side of right, and not uncommonly more proverbial than the proverbs themselves." — The Record
"These proverbs and quaint sayings may be of great service in sermons and platform addresses. Preachers and speakers would do well to make a judicious use of them." — British Weekly
These three things go to the making of a Proverb: Shortness, Sense, and Salt.
This is a collection of proverbs in two volumes entitled The Salt Cellars. About these a friendly reviewer said: "We are more interested in Mr. Spurgeon's applications than in many of the proverbs. The reader asks himself as he lights on some familiar or unfamiliar proverb, 'Come, now, I wonder what Mr. Spurgeon will make of that.' For one never knows what he will make of it. The old-fashioned application of Aesop's Fables every child could anticipate, but there is no such commonplace and prosaic certainty about Mr. Spurgeon's applications, and therefore they have to be read." And in response to another criticism he wrote to George Augustus Sala: "I like the parts in which you pitch into me quite as well as those in which you praise." These volumes contain many of the proverbs published year by year in John Ploughman's Almanack, with shrewd comments thereon.
Charles Haddon Spurgeon (1834-1892) converted to Christianity at the age of fifteen. By the age of twenty-two, he was the most popular preacher in England, and remained so for the latter half of the 1800s. He frequently spoke to crowds over 10,000 in the days before electronic amplification. Known as the "Prince of Preachers," he delivered nearly thirty-six hundred sermons throughout his life. A prolific writer as well, many of Spurgeon's works remain in print to this day.
Create an Olive Tree Account
Sign Into Your Olive Tree Account