Read & Study Collection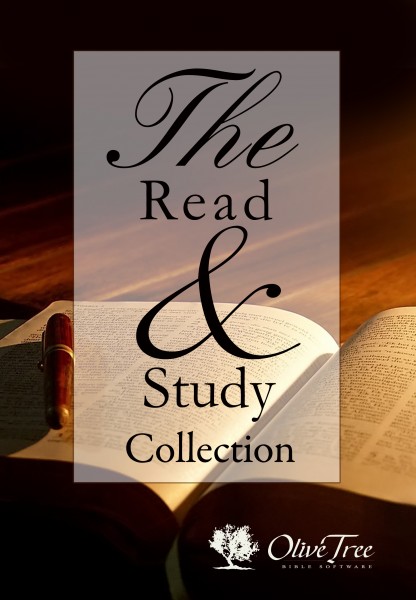 Tell Someone
Available for: iPad, iPhone, Android, Mac, and Windows.
Read & Study Collection
Publisher: Olive Tree
Publisher: Olive Tree
The Read & Study Collection is a great starting package containing several translations and study tools! It provides great Bible translations like the NIV, classic commentaries, dictionaries and devotional material, and a full color map set. This collection works especially well with the Resource Guide in The Bible Study App.
---
Detailed list of all items included in the Read & Study Collection:
ENGLISH BIBLES
New International Version (NIV) - A very popular contemporary English version, based on the original texts.
The Message - An easy-to-read paraphrase that can help readers to see passages in a new light.
Holman Christian Standard Version (HCSB) - A translation which seeks to convey the precise meaning of the original language by the best means available (please note this version does not contain cross-references).
King James Version (KJV) - Its majestic language has moved readers in all generations.
Amplified Bible (AMP) - Combines the insights of numerous biblical language experts.
COMMENTARIES
Matthew Henry's Concise Commentary - Read in concise form the insightful words of a great Bible commentator.
CONCORDANCES / CROSS REFERENCES
Nave's Topical Bible Index - Explore over 6,000 topics and over 100,000 Bible verse references.
MAPS
Manna Maps Study Set - Full color maps and charts let you explore Biblical lands.
DAILY DEVOTIONALS AND DAILY READING
Spurgeon's Morning and Evening Devotional - Penetrating and touching expositions of Scripture by the "Prince of Preachers."
Daily Light, King James Version - A beloved classic devotional for morning and evening, taken entirely from the Bible.
Life Journal Daily Reading Plan - A one-year daily reading plan through the Bible.
Create an Olive Tree Account
Sign Into Your Olive Tree Account