Nouvelle Edition de Geneve 1979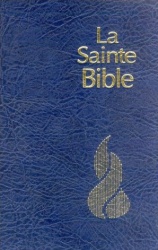 Tell Someone
Available for: iPad, iPhone, Android, Mac, and Windows.
Nouvelle Edition de Geneve 1979
Publisher: Geneva Bible Society
Publisher: Geneva Bible Society
Pastor and Doctor in theology, Louis Segond was born in 1810 to French parents in Geneva and his translation of the complete bible was published for the first time in 1880. This version has been modernized and was released in 1975 with C.I. Scofield notes and again in 1979 under the name Nouvelle Edition de Genève.
Pasteur et docteur en théologie né en 1810 de parents français à Genève, Louis Segond a traduit l'Ancien Testament, puis le Nouveau Testament. Sa version complète de la Bible, traduction à équivalence formelle, a paru pour la première fois en 1880. Ce texte a été modernisé grâce à des retouches linguistiques et stylistiques et publié en 1975 avec les commentaires de C.I. Scofield, puis en 1979 sous l'appellation Nouvelle Edition de Genève.
Create an Olive Tree Account
Sign Into Your Olive Tree Account