Know Why You Believe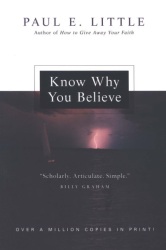 Tell Someone
Available for: iPad, iPhone, Android, Mac, and Windows.
Know Why You Believe
Publisher: InterVarsity Press (IVP)
Publisher: InterVarsity Press (IVP)
Is there a God? Is Christianity rational? Why Does God Allow Suffering & Evil? Does Christianity Differ from Other World Religions? In twenty-five years of lecturing Paul Little found that regardless of the group there were twelve commonly asked questions. "They are predictable," he said. "If we think through the answers to the common questions we hear, we'll know the answers to the right ones. Right answers to the wrong questions aren't of much help!" From his own study of the Bible and research of biblical scholars, he framed his answers. That's how Know Why You Believe was born.
This edition, revised and updated by Marie Little in consultation with experts in science and archaeology, provides a solid foundation for those who are willing to search for the answers of the most common questions of faith.
Create an Olive Tree Account
Sign Into Your Olive Tree Account