Ecumenical, Academic and Pastoral Work: 1931-1932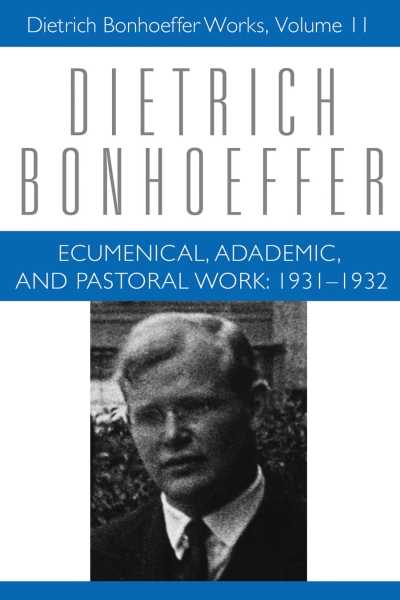 Tell Someone
Available for: iPad, iPhone, Android, Mac, and Windows.
Ecumenical, Academic and Pastoral Work: 1931-1932
Publisher: Augsburg-Fortress
Publisher: Augsburg-Fortress
Volume 11 in the sixteen-volume Dietrich Bonhoeffer Works English Edition, Ecumenical, Academic, and Pastoral Work: 1931-1932, provides a comprehensive translation of Bonhoeffer's important writings from 1931 to 1932, with extensive commentary about their historical context and theological significance. This volume covers the significant period of Bonhoeffer's entry into the international ecumenical world and the final months before the beginning of the National Socialist dictatorship. It begins with Bonhoeffer's return to Berlin in June 1931 after his year of study in the United States. In the crucial period that followed, Bonhoeffer continued his preparations for the ministry, began teaching at Berlin University, and became active at international ecumenical meetings. His letters and lectures, however, also document the economic and political turbulence on the European and world stage, and Bonhoeffer directly addresses the growing threat of the Nazi movement and what it portends not only for Germany, but for the world. Several of the documents in this volume, particularly the student notes of his university lecture on "The Nature of the Church" and his lectures on Christian ethics, give important insights into his theology at this point. His ecumenical lectures and reports are significant documents for understanding the ecumenical debates of this period.
Dietrich Bonhoeffer was a German Lutheran pastor and theologian who lived from February 1906 - April 1945. He received broad recognition for his writings on Christianity's role in the secular world. Bonhoeffer was also famous for his staunch resistance to the Nazi dictatorship, which ultimately cost him his life in a Nazi concentration camp.
ISBN: 9781500001872
Create an Olive Tree Account
Sign Into Your Olive Tree Account