NA28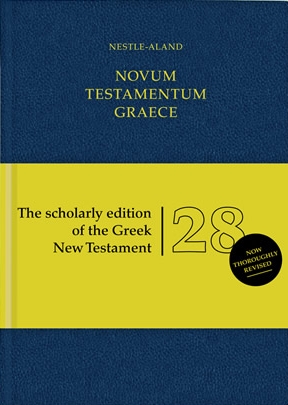 Tell Someone
Available for: iPad, iPhone, Android, Mac, and Windows.
NA28
Publisher: German Bible Society
Publisher: German Bible Society
After an extensive process of revision, the new edition of the Novum Testamentum Graece (NA28) is now available! The NA28 set a new standard among Greek New Testament editions with its revisions and improvements. The Catholic Epistles have been modified in more than 30 places to bring them into alignment with the Editio Critica Maior.
Please Note: this resource contains only the text of the NA28. It is also available in the following bundles containing the apparatus, the Mounce parsings, or both the apparatus and the parsings:
Upgrade Pricing Available! If you've previously purchased the NA27, you can purchase this item for a special upgrade price. The upgrade price will be visible when you log in to your Olive Tree account and add the item to your cart (NOTE: Upgrade pricing is only available on www.olivetree.com, and not via in-app purchase).
Create an Olive Tree Account
Sign Into Your Olive Tree Account