C.A. Coates Commentary and Articles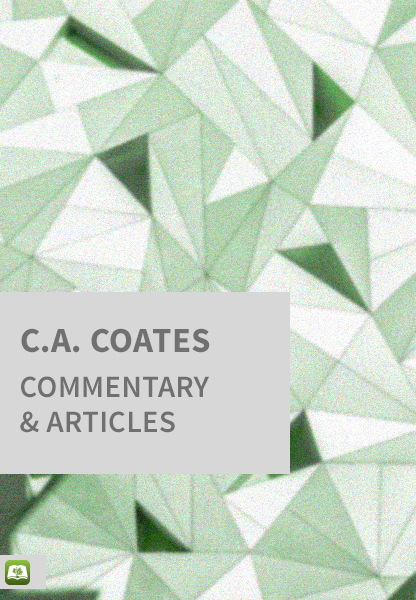 Tell Someone
Available for: iPad, iPhone, Android, Mac, and Windows.
C.A. Coates Commentary and Articles
Publisher: Kingston Bible Trust
Publisher: Kingston Bible Trust
This collection of C.A. Coates' ministry throughout his life contains 37 volumes of his commentary and articles. Coates wrote commentary or outlines on most of the books of the Bible. He also wrote numerous articles on spiritual principles and Biblical topics. Portions of the commentary are in question and answer form, while other sections proceed through books of the Bible by chapter. Navigating the wealth of riches in C.A. Coates Commentary and Articles is made easy and quick by the use of the Table of Contents Chooser, which provides instant access to any location in the 37 volumes.
A sample of the subjects included in this collection is below:
Pentateuch
Historical Books of the Bible
Minor Prophets
Gospels
Epistles
Revelation
Letters of C.A. Coates
"Words in Season"
"The Lord's Supper"
"A Sure Foundation"
And Other Topics!
Charles Andrew Coates, a member of the Plymouth Brethren, preached and ministered for numerous years in England. He battled declining health in his later years, but he continued to minister where he could. When he went to be with his Lord in 1945, he left behind a wealth of ministry for his fellow pilgrims.
ISBN: 9781500000745
Create an Olive Tree Account
Sign Into Your Olive Tree Account