New International Commentary on the Old Testament: The Book of Isaiah 40-66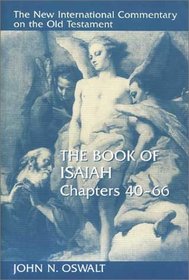 Tell Someone
Available for: iPad, iPhone, Android, Mac, and Windows.
New International Commentary on the Old Testament: The Book of Isaiah 40-66
Publisher: Eerdmans
Publisher: Eerdmans
Chapters 40-66 of Isaiah are some of the most beautifully written chapters in the Bible. As the writer addresses Jews during and returning from the exile, you'll find messages of hope and encouragement as Israel faces the challenge of rediscovering its identity as God's chosen people.
In the New International Commentary: Isaiah Chapters 40-66, widely regarded scholar John Oswalt of Asbury Theological Seminary continues to present his thorough research via a sound expounding of Biblical texts. He begins with subjects of authorship and composition, and then moves on to the commentary proper, which draws on comprehensive linguistic and historical study. Whether you're a scholar or a new reader, this commentary will help you get to know this crucial part of the Old Testament.
ISBN: 9781500005474
Create an Olive Tree Account
Sign Into Your Olive Tree Account