Wesley Study Bible Notes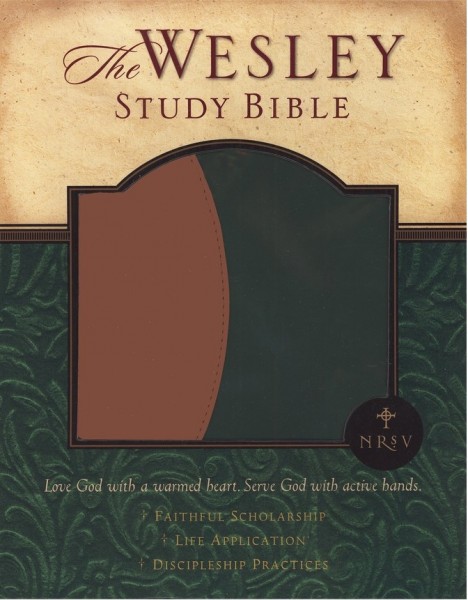 Tell Someone
Available for: iPad, iPhone, Android, Mac, and Windows.
Wesley Study Bible Notes
Publisher: Abingdon
Publisher: Abingdon
The Wesley Study Bible Notes is designed for use with the NRSV Bible, but can be used with any Bible Study App version of the Bible on your device.
Contributors from across the Wesleyan family have join together to help you experience God in fresh ways.
Special Features:
An introduction summarizing each biblical book
Comprehensive study notes on NRSV text by over 50 biblical scholars
Over 180 life applications and inspirations written by over 50 key pastors
Over 180 easy-to-understand explanations of Wesleyan core terms by over 60 Wesley experts, including: eternal life, forgiveness, grace, heaven, holiness, justice, and mission
Extended reference to works by John Wesley
Over 19,000 links to scriptures, including cross references;
19 full-color maps, with an index of important regions, countries, cities and features;
An easy to navigate Table of Contents, to find find notes on particular verses, maps, life applications or core Wesleyan terms
Notes and maps readily available in the Resource Guide for The Bible Study App 5 users
People in these churches will be especially interested in The Wesley Study Notes:
African Methodist Episcopal Church
African Methodist Episcopal Zion Church
Christian and Missionary Alliance
Christian Methodist Episcopal Church
Church of the Nazarene
Church of God (Anderson)
Free Methodist Church of North America
The Salvation Army
Wesleyan Church
United Church of Canada
The United Methodist Church
By studying the Wesley Study Notes you will share God's grace and find the good gifts God has for you. As God transforms you through study, you will be inspired to transform the world.
Create an Olive Tree Account
Sign Into Your Olive Tree Account